The first ever LB European Series event in Turkey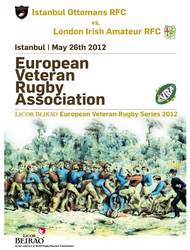 Istanbul Ottomans RFC Vets are proud to host London Irish Amateur Rugby Football Club Veterans - "The B´s" for a friendly fixture in Istanbul, on May 26th 2012, as the part of the EVRA Licor Beirao 2012 Series.

This event marks the first ever Irish/English veteran rugby club tour to Turkey and the first ever EVRA Licor Beirao event to take place in Turkey.

London Irish Amateur RFC Vets "The B´s" are affiliated with legendary London Irish RFC "The Exiles", that compete in Aviva Premiership Rugby.

"The B´s" are the leading side in Surrey Vets 2nd League table at the moment . . .
EVRA promotional Match poster . . .
click here

Ozer Onkal
back