CASCAIS READY TO HOST EUROPEAN RUGBY VETERANS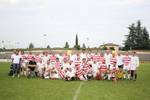 After welcoming the Global Championships Tour in Horse Jumping and the America´s Cup (Sailing) in the last weeks, the veteran rugby Festival will be the next international sports event in this European Riviera, where all guests are going to feel and enjoy the true hospitality "mixed" with the beauties of the host country.
European Festival will start on Wednesday evening (September 7th) with the Cocktail Party at Casino Estoril, welcomed by Portuguese Rugby Union and the Cascais rugby veterans headed by the Chairman Goncalo Faria de Vasconcellos and Jorge de Herédia, the Festival organiser.
On Thursday (September 8th) rugby games will be played the whole day long on astroturf playing field at the Cascais Rugby Club Stadium.
All teams will play to "win" the most precious Festival prize - Jeff Butterfield Award, silver cup donated to EVRA by his wife Barbara.
J.B. Award will go to the team that expressed at most Fair Play, belonging to the rugby community and the social responsibility being part of big European rugby veteran family . . .
All Festival prizes, including Jeff Butterfield Award, will be presented at Gala Dinner at Estoril Congress Centre on Saturday evening, September 10th.
cont.