E V R A (Europe) SELECT XV TEAM STARTS IN ITALY and FRANCE?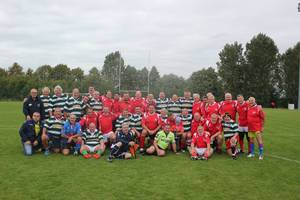 Our rugby friends from Italy and France, celebrating their 20th and 25 Anniversary are organising international old rugby tournaments.
The organisers of these two 2018 European Series events - 12th Trofeo della Salamella (in Mantova, March 24th) and 25 Ans de Lougarous (in Auterive, May 19th),invited EVRA (Europe) Select XV Team to share with them the celebrities, promoting together our Veteran sport . . .
EVRA Team Manager and the Organiser, Marko Protega (Heidelberg) sent out invitation to all Association club members, as well as to all veterans that had played forthe "European Selection" in the past years . . . to join us in either of one celebration events.
Further information avaliable at marko.protega[aet]evrugbya.org

back
---