European Veterans are welcome to Rio de Janeiro 2018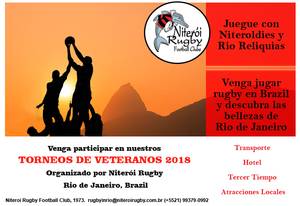 The Niterói RFC (Rio de Janeiro), the second oldest rugby club in Brasil has the pleasure of inviting Rugby veterans from Europe to enjoy "fun-filled" events during 2018 and celebrating good spirit of Rugby.
The organisers wrote to EVRA - "although it seems that our rugby years went too fast and although we want to respond to the desire of our brain, our joints do not respond in the same way . . .
However, we can still continue to live rugby in everything it represents in friendship, good humor and fun.
But we can travel like veterans to resuscitate the player inside of us . . . "
EVRA has the pleasure to forwad this invitartion of our Brasilian friends . . .for further information, please contact rugbyinrio[aet]niteroirugby.com.br