Partnership with Old Rugby Club Italia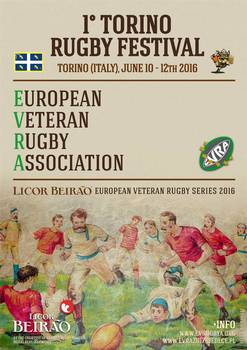 Passione, Rugby Italiana (Italian passion for Rugby) as it stood overall at Stadio Olimpico in Rome at the Six Nations match vs. England, is also valid for Old Rugby in this, the European most active country . . .

Co-operation that started several years ago between Old Rugby Club Italia (possible the most visited sport ´s webpage in Italy) and EVRA has been developed into the partnership.
The man behind this process, Valentino Savio from Zer011 Old Rugby Club, and his rugby friends are organising the first ever Torino Rugby Festival in June, also as the part of Licor Beirao European Veteran Rugby Series 2016.
The ambitions are big . . . in the future this Event should be staying parallel with Milano Rugby Festival, the biggest event of our veteran sports for the time being, in this Mediterranean country . . .

Italy is known for "booming" of Veteran Rugby and is leading country in organising Veteran Rugby Tournaments (Old Rugby Tornei) in Europe.
Old Rugby Club Italia (www.oldrugbyclub.it ) is the strong supporter of European Veteran Rugby Series too, from the very begining . . .
We both are promoting Veteran rugby activities in Europe . . . and will do it in the future

back