EVRA SELECTED XV PLAYED AGAIN . . .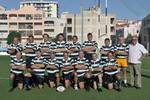 After taking part at International LB European Series Veteran Tournament in Pancevo (Serbia) last April, EVRA Selection "came together again" in Cascais for the European Festival. Thanks to the President Tomás Espinosa Lidón and Juan Moralles - VIATOR, Elche - Spanish Sports-Rugby Equipment producer, EVRA Selection got the "full equipment" for this occasion . . .
cont.
MANTOVA (Italy) VETERAN TOURNAMENT . . .
Saturday, October 8 was held in Mantua the 3rd International Rugby Old "Salami, Sausages and . . . Oval Ball" Tournament .
The Event, organized by Senatori Virgiliani Old Rugby Club, has hosted this year the veterans from all over the country. They have participated in the Union Team, selected from the players of Sicily, Calabria and Puglia, as well as in the club-teams of the Old Rugby Pesaro, the Allupins Prato, the Old Ruggers Rugby Treviso and Modena Veterans.
cont.