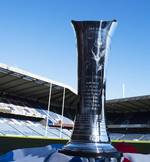 Trophy honoured the the war dead from the rugby communities of Scotland and France at the Murrayfield on the occassion of Six Nations game between these two Nations, the match which falls in the centenary year of Armistice.
It specifically commemorates the captains of Scottish and French team of the last match played before the First World War - Eric Milroy and Marcel Burgun, both whom perished in that War . . .
Stade Marseille Universitaire Club is the tradional Sports association (founded in 1923) of City of Marseille - European Capital (Cultural in 2013 and Sports in 2017).SMUC has 26 different sports, among them Rugby Club (founded in 1927) with the Veteran Team called Bandar Log (founde in 1980).