The Iberian veterans "marching" to Poland . . .

One of the EVRA founders and the Main sponsor José Redondo (Licor Beirao, Lousa) started the campaign for the European Festival 2017 in Siedlce (Poland).
With his rugby friends Paulo-Jorge Batista and the other RC Lousa veterans (already Festival participant) José approached traditional veteran teams Arcos de Valdevez, Bairrada Rugby Club, Coimbra RC and the Old Boys of Benfica RC, the biggest and the most traditional Portuguese rugby society.



cont.
2,000.000 VISITS / CLICKS AT E V R A WEB . . .

It was middle of April when the number of visits(clicks) at EVRA Web reached the number of 2,000.000 !
When started in January 2011 (just a couple of months after EVRA was founded) there were not "too much" those beleiving that this webpage will be so attractive for the European veterans.

cont.
TWO E V R A NEWCOMERS FROM FRANCE AND ENGLAND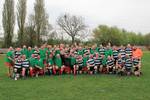 Founded in 2003 ComeOn Sport (Marcoussis, Paris) had organized over 1000 sports tours for Rugby, Field Hockey, Football, Basketball, Handball clubs/teams/universities and schools, from youth to the veterans. ComeOn Sport is a French sports agency that give a high quality of organization for your tour . . .

cont.