Who are the Skäne Old Boys - the holders of European "Jeff Butterfield" Trophy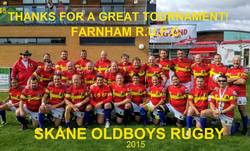 Skåne Old Boys is a mixture of older (senior sounds much better) players from the Skåne region of Southern Sweden. The first meeting of these senior players was back in 2008 in the EMG. The team then consisted mainly of young men around the age of 35.

cont.

Belgrade (SRB), Makarska (CRO), Marsa (MLT) and Torino (ITA) . . .
Four new events became the part of Licor Beirao European Series 2016 . . .
Belgrade, Serbian capital, at the banks of rivers Danube and Sava, with recently founded rugby club RC "Zmajevi" (The Dragons) decided to "unite" Serbain veteranplayers organising the first ever EVRA Veteran rugby tournament, inviting all"neighbours" to take part at this inaugural event . . .

cont.