New EVRA Website had started . . .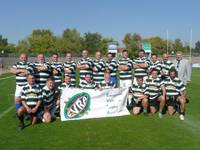 Our new Website www.evrugbya.com had started . . . we do hope that it will of your interest, of course when you will continue to inform with the news from your Club, Team, your area, your country.
For those interested to "follow" the last 11 years we decided that the "old" Website www.evrugbya.org remains in use . . .
We use the opportunity to thank C.Visions Graphic Design & Co (Germany) and especially to Jan Philipps for enormous and successful work . . .
Yours in Rugby
Executive Board
Celebrating Rugby during the "Covid – 19" time . . .
Hungarian Rugby veterans "dared" to enjoy (and play) our Game in spite of the still actual pandemic situation . . .

Cont.