Fredericia, the small Town, named by its Founder Friedrich III in 1650, was at the begining an important Fortress, controlling the sea-pasage between halfpeninsula Jylland and the Island of Fyn.
Since 1984 Fredericia has the Rugby Club ERRITSOE, well organized with the teams from children to old boys.

cont..
---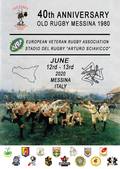 The Anniversary of this first Old Rugby Club at Sicily is in fact the story about the Veteran Rugby in South Italy. The Club was founded in 1980, followed by several others what led, now a days, that Italy is Nr. 1 European country, with the most number of Old Rugby Torneos . . .

cont.
---