STANDING UP FROM THE MUD ...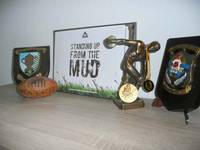 40th Anniversary celebrities of Farnham RUFC (England) finished with hosting EVRA European Festival at the start of Rugby World Cup 2015
About the 40 years of "standing up from the mud" they published the book that shows how the way of determination, willingness, hard work and camaraderie can lead to the success ...
Introducing words of Geoff Robins, actual Club and the past European Festival Organising Committee Chairman describes in a couple of sentences this "wonderful rugby way":
Ever since I arrived at the club in the early 80´s the thing that struck me was the spirit, camaraderie and can do attitude of the club and in particular the people who did what they did, on and off the pitch. They beleived in what we stood for and more importantly enjoyed every minute of it.
This book is a celebration of that very spirit - it´s not a chronology but more a series of personal recollections from people from across the 40 years it took to get us to where we are today.
It has been my privilege and pleasure to have been Club Captain, 1st XV Captain, Captain of Veterans XV, Club Secretary and for the last 21 years Club Chairman. To say things have changed over this period is an understatement but the thing that has endured is a common but unspoken vision of creating a club that has meaning, a social and sporting community that played hard and partied even harder.
It is remarkable to me that, given the conditions that we ´enjoyed` at Wrecclesham, the club was so successful, so well supported and generated players who represented their club, their county and their country with such distinction. It was the spirit and resilience that endured throughout our long struggle to move to Monkton Lane, where we are now ...
It is now up to all of us to preserve and sustain that spirit as we drive the club forward to even greater heights over the next 40 years and beyond.
The passt development is the "way to follow" , not only in the "Home of Rugby" ...

back