4° MEMORIAL "ANTONIO PELINO"
Klick to view! 25 Images.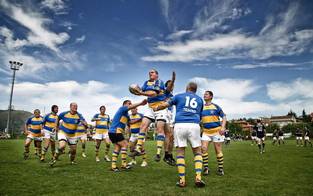 This Memorial Tournament in Abruzzo, as the part of EVRA European Series, was organised by the Old Rugby Club Avezzano.
This year event has been particularly challenging . . . eight Italian teams - Anzio, Appia, Autumn Roma, Civita Castellana, Frascati, Lazio Roma, SPQR Gladiator Roma and Old Rugby Avezzano - played firstly divided into two groups.
In the morning at 11 hrs team captains have had "a briefing", after that all teams joined them in the Clubhouse for the lunch.
The games started at four o´clock in the afternoon, finishing in the early evening with the game Frascati v. Avezzano.
Frascati Veterans were awarded as the "Tournament winner" . . .
500 players, supporters and guests took part at the "third halftime" that lasted until late in the night.
The success of this year Tournament initiated the idea to have next year also some teams from abroad, with the help of EVRA . . .
back