Wheelchair Rugby Tournament at the European Festival

During European Festival in Ezstergom in June International Wheelchair Rugby Tournament will be held as the part of promotional action for the Sport for handicapped persons in Hungary.

more
GREAT RECOGNITION FOR OLD RUGBY MOVEMENT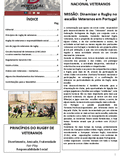 Portuguese Rugby Union (FPR) had recognised their Rugby veterans as the structural part of the F P R. National Veterans Commission of four members, led by Paulo Soares Oliveira and Paulo Picao, Miguel Jonet, Luis Taborda, is going to coordinate, regulate and take care about the development of Portuguese Veterans in the future.

The first Newsletter Portugal Rugby Veterans had been issued with the aims and the activities for 2013 [

Newsletter - pdf].

more.
ALGARVE RUGBY FESTIVAL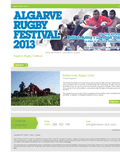 At the most South – west European point International rugby is starting this weekend with 2013 Rugby Festival with the participation of London Irish, Krasnyi Yar (Russia), CDUL Rugby (Portugal) and British Army Rugby Union teams. www.browns-club.com.

more