Rucking the Crisis!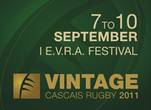 Portuguese Travel Operators support the Festival - Same (High) Quality but Cheaper
That is Great News for the teams applying for the European Festival. The organization, with the help from the Board of Tourism, managed to get the support from one of the Biggest Bus Companies which allowed to reduce the All Included Package Prices.
cont.
LICOR BEIRAO EUROPEAN SERIES STARTED IN ÉVORA (Portugal)
The jubilee 10th B P GAS Veteran Tournament in Évora was the successful start of Licor Beirao European Series 2011.


cont.
"DIE BOSBOKKEN" E.V.R.A Old Boys Festival
In spite of the fact that one of participating teams (Fareham Heathens RFC) were not really and Old boys team and that Golden oldies rules were not hold in the most of the games, all participants left Hilversum again very satisfied.
cont.